There seems to be a strong stereotype that follows the Nursing profession around. People tend to think of nurses as women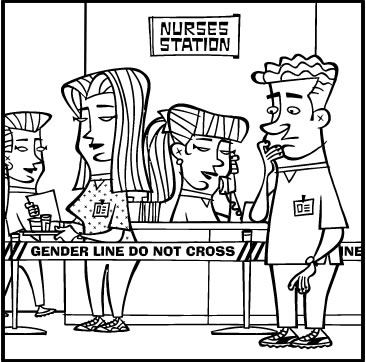 and men are not prevalent in the field.
While in the past it may have been common to see very few men in the field, it seems as if that is all about to change. In an article that I recently read, it explains how with increased lay offs more men are now finding themselves gravitating towards the steady, secure field of healthcare.
While many may find the transition to a new career/new field of study to be very daunting, it certainly is not impossible. There are many accelerated LPN programs that will allow you receive your license as a practical nurse within a year. While any nursing program is not going to be easy, these courses at least allow you make the change as quickly as possible.
For most men transitioning from a labor intensive job, not only does the nursing field provide a secure career but in most cases a significant pay increase follows as well. In the article, a former warehouse employee receives a $20,000 pay raise!
Not only is the switch beneficial for the men, it also appears to help the whole department. An administrator, LaKeshia Bell is quoted as saying "At 5 feet 9 inches tall and 220 pounds, Mr. Edwards lifts patients as easily as he stacked boxes."
So while males are still not abundant in the nursing field, it is definitely a growing trend that seems to benefit everyone involved.
So whether your a male or female interested in finding out information about RN nursing programs that provide you with self-paced education and training, give us a call today!
Ein Peck
(800) 307-1006 ext 4786